Will Yoga Help You Reach Your Health or Fitness Goals?
July Special: FREE Yoga Class With Any Service You Book
It's Almost July.  Will Yoga Help You Reach Your 2022 Wellness Goals?
We're halfway through the year…how are your 2022 wellness goals coming along? Maybe you're hitting all your targets. Or maybe you fell off track a while ago. No matter how things are going for you, now is the perfect time to re-evaluate your goals and make some shifts in the right direction.
At On Point, we have a secret method for reaching wellness goals: YOGA!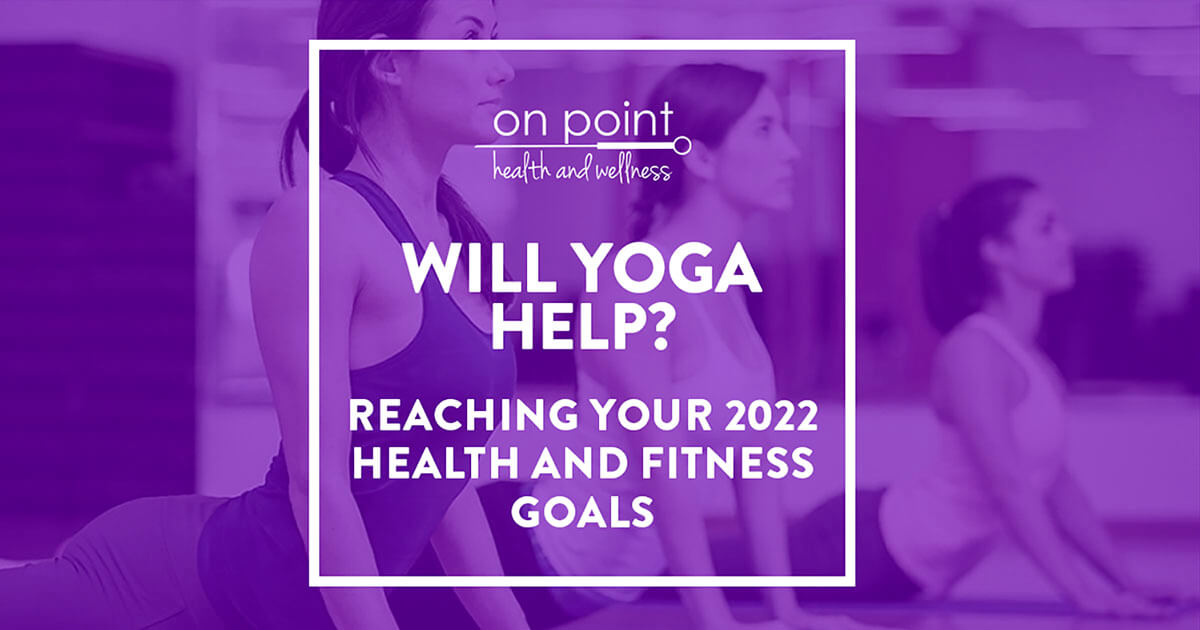 It's Not Just For Yogis.
That's right. Yoga is not just for yogis. It's for everyone – no matter your age, size, flexibility level, fitness goals, or lifestyle. You may be asking yourself: How Will Yoga Help Me? Here's why you might want to add yoga into your wellness routine for the second half of the year…
Yoga helps you stay focused and motivated.
Many people fall off track with their wellness goals because they simply struggle to focus. And that's easy to understand! Life is complicated and things come up. Oftentimes, our own self-care and goals fall to the wayside when work or family issues feel more pressing. By adding yoga into your schedule, however, you can regain the focus and motivation you need. The best part is that this focus will overflow into your daily life, so you can give your best to your career, family, friends, and all other aspects of your life.
Yoga relieves aches and pains.
If pain is keeping you from exercising as much as you had planned, yoga can help. Yoga is a gentle way to increase circulation through the body and give your joints, muscles, fascia, and other tissues the support they need to heal. Adding yoga to your weekly routine can drastically reduce pain, while also improving your posture and metabolism.
Yoga improves digestion and can help with weight loss.
If losing weight was one of your big resolutions this year and you're not getting the traction you'd hoped for, consider trying yoga. From invigorating, calorie-burning flow yoga to stress-relieving restorative yoga, there's something for everyone. Along with helping you burn more calories and build strength, yoga can also help with cravings, slow metabolism, bloating, and digestive issues that are holding you back.
Yoga relieves stress and helps you feel more positive.
Stress sabotages your motivation, but yoga can help reverse it. Yoga is a powerful stress-relieving mind-body practice. Those who practice yoga regularly notice a substantial positive shift in their energy and mood.
July Special: FREE YOGA CLASSES!
Don't forget – you get a FREE yoga class with any service you book in July 2022 at On-Point Health & Wellness in Beckley WV! Now is the best time to try our yoga classes – or try yoga for the first time if you are new to this incredible practice.
Book Any Service & Get A Free Yoga Class
Or Just Buy A Pack Of Yoga Classes – Sign Up TODAY!