Use Acupuncture For Metal Element Imbalance
Meet the Metal Element
In Chinese medicine, each season has its own element that represents the nature of that time of year. For fall, that element is metal.  For centuries practitioners have used acupuncture for metal element imbalance in patients.
Healthy metal is both strong yet flexible; sturdy yet malleable. It is a refined substance. The metal element is associated with the Lung and Large Intestine (as well as the immune system). Both of these organs are responsible for taking in what the body needs (air, nutrients, water), refining it, and eliminating what it doesn't (waste). Metal is also associated with the pores of the skin, the nose, and the emotion of grief or sadness.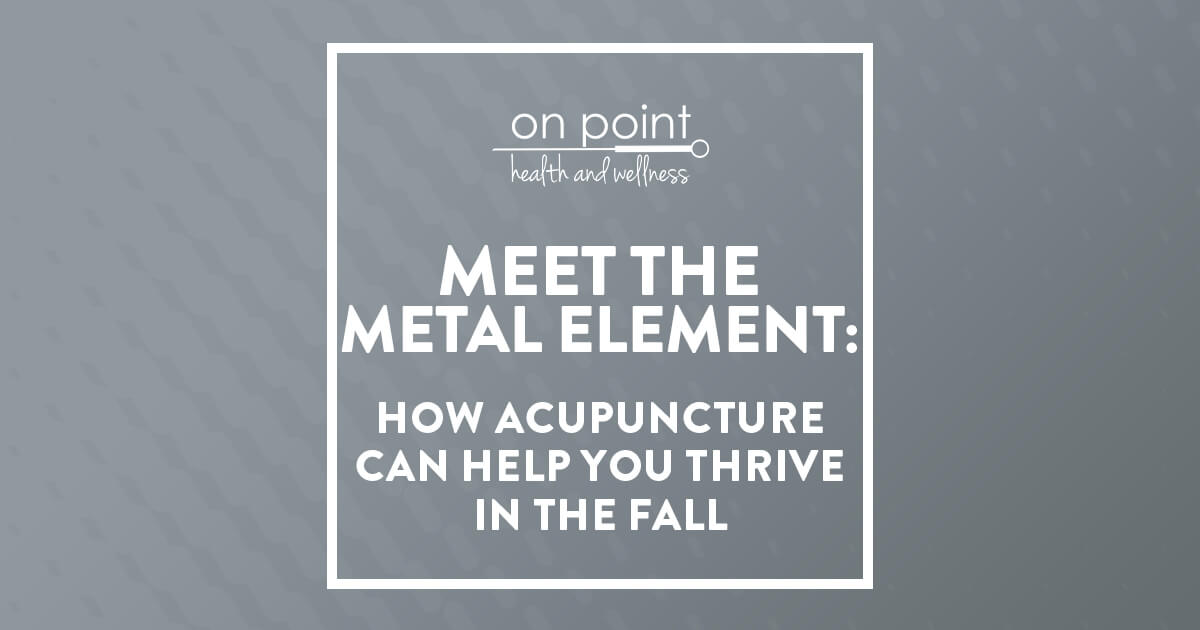 When these metal organs are healthy, we are strong and adaptable.
When metal is out of balance, however…
You easily catch colds or the flu.
You have chronic allergies, asthma, or COPD.
You experience dry, itchy skin or brittle hair and nails.
You get flares of rashes, hives, eczema, or psoriasis in the fall.
You regularly have constipation or diarrhea.
You are hypersensitive to your environment.
You lack assertiveness or you are excessively rigid.
You struggle with grief or sadness.
You may consider yourself a perfectionist, which leads to you often feeling disappointed.
Using Acupuncture to Support the Metal Element
Acupuncture is one of the best ways to promote the metal element.
Acupuncture is one of the best ways to promote the metal element. In fact, the practice of acupuncture alone uses the power of strong yet flexible metal needles to refine the body's healing processes for better health!
Why do we utilize acupuncture for metal element imbalance? Acupuncture can help with both the physical and emotional signs of metal imbalance by directly strengthening the Lung and Large Intestine Qi through specific acupuncture points.
Not Just Acupuncture For Metal Imbalance
Along with acupuncture, other therapies can also support the metal element and help you have a healthy fall.
Cupping Treatments
Cupping is great for clearing congestion and tension in the chest. It can also be used to promote more regular digestion if you suffer from constipation or diarrhea.
Halotherapy In The Salt Cave
The salt cave directly impacts the Lungs as you breathe in healing salt crystals. The salt cleanses the respiratory tract, reduces inflammation, and protects against harmful microbes. Our sessions in the salt cave also help you breathe deeper, clear your skin, and release feelings of sadness or self-doubt.
Infrared Sauna Sessions
The sauna helps promote the metal element's job of elimination. By opening your pores and encouraging a healthy sweat, a sauna session helps the metal organs clear away waste products and stimulates the immune system.
Book A Visit